Wood River Baptist Women's Auxiliary
An Historical Sketch of the Women's Auxiliary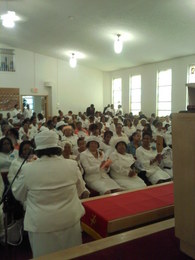 In September, 1896 at Eight and Elm Street Baptist Church, now known as First Baptist Church, Quincy, Illinois, the Women's Home and Foreign Mission and Educational Convention, now known as the Women's Auxiliary, was organized by the late Rev. Dr. E. H. Borden.
Dr. Borden, a young man of execptional ability and known to possess keen judgement, way the need of more active and dedicated workers in the Wood River Baptist Association. Therefore, he organzied the Women of Central Illinois as promoters of the Cause of Christ.
Mrs. C. Leota Caston was the first President. She served two years (1896-1898). She then resigned. She and her husband (the Rev. J.T. Caston, who was at the time the Pastor of Union Baptist Church of Springfield, Illinois), returned to Jefferson City, Missouri, where she accepted the position as a teacher, and her husband was to be the principal.
Mrs. Laura Tinsley succeded Mrs. Caston. The third President was Mrs. Virginia King of Springfield, Illinois. The fourth President was Mrs. Rebecca Murrell; the fifth was Mrs. J. F. Johnson Withers, who was also from Springfield. Mrs. Hattie J. Wells of Urbana, Illinois, who led the organization for 28 years, was succeeded by Mrs. Lenora C. Smith of the St. Paul Baptist Church of East St. Louis, Illinois.
Many Presidents and dedicated Women have brought the Women's Auxiliary to where it is today. The Women of Wood River are continuing faithfully to serve as a viable entity of this Historical District.
Additional history can be found in the book entitled; "The History of Wood River Baptist Association" by Dr. Eddie Mabry